About Sinkevich Law Firm PLLC
Meet Fred Sinkevich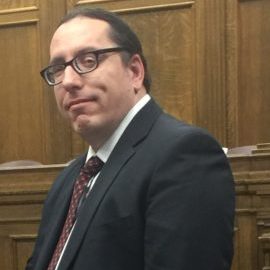 Frederick A. Sinkevich, JD M.Ed
Founding Attorney
Fred is the founding attorney of Sinkevich Law Firm PLLC. Throughout his career he has shown his dedication to helping others and working toward the greater good.
"Everyone deserves to be heard and everyone deserves a fair chance at access to justice, we're trying to do our part."
 -Fred Sinkevich
MY CORE BELIEFS:

Honest Advice – Navigating the legal landscape and trying to represent yourself if you're not a lawyer is tough. You may not know how the system works, or what the process is to even get your voice heard, never mind trying to obtain justice. That's why I offer a free fifteen-minute consultation with your best interests at heart. If a case doesn't appear to have any legal merit or will involve more time and money than is practical, I'll tell you so.
Fair Representation – I've seen so many people that have gone through these various legal systems alone. They didn't know how the system works, or who to go to for assistance. With my background at the Equal Employment Opportunity Commission and the Unemployment Law Project, along with my years of teaching in the public school system, I am familiar with these systems and will do everything that I can to help guide you to the best outcome possible.
Giving Back – My firm is involved with several local volunteer legal organizations. I work towards the goal of providing affordable legal services for my clients so that they can get the representation and justice they deserve.
Humility & Civility – If you and I feel that my firm is not the best fit for your issue, that's okay. I will listen to your issue with an open mind, and if I feel that my firm isn't the best fit for you and feel that your issue has legal merit, I'll refer you to the best person I know to help you take care of your issue. I will refer you to the person that I would want to help me if I were in your situation.
______________________________
MY FIRM'S FOCUS AREAS:
EMPLOYMENT – I've seen how hard it is for people to find representation, and ultimately had to try to represent themselves in employment situations, such as negotiating a contract. I've been there and I don't want other people to have to go through that.
UNEMPLOYMENT  – I've been unemployed. I've seen how difficult the unemployment benefits system is to work through. I know how hard it is when you're scared, frustrated and angry and have no clue where to turn to get unemployment benefits. Only to find out that you have to fight for your unemployment benefits when you aren't even really sure how the system works. I'm here to help you navigate the system and I'll do the best I can to help you to get your benefits.
SPECIAL EDUCATION – I'm a former teacher in the special education field. I've seen how tough it is for parents to figure out the system so that their child gets the help that they need, or even find representation. This forces many parents to advocate for their child themselves, with the hope that their child will eventually get the help they need. You don't have to be alone in this. I'm here to help you through the twists and turns of the special education system. I'm here to be an advocate for you and your child when you don't even know what to ask for to get your child's educational needs met.
DISABILITY – As a person with a disability and who has worked with students and adults with disabilities, I've seen what happens when people don't know where to turn for the accommodations they need. I'm here to help guide you through these systems and to ensure that your rights are protected.
______________________________
About Fred Sinkevich
As a graduate of the Seattle University School of Law, Fred was an Article Editor for the Seattle Journal for Social Justice and he served as an executive board member for various student legal organizations. Fred holds a Masters in Education with a concentration in Special Education from Northeastern State University, as well as a Bachelors of Arts in History from the University of Pittsburgh. Before becoming a lawyer, Fred taught high school students with special needs in Seattle, WA and in Tulsa, OK. He and his family live in Des Moines, IA.